Basic Rappel Course
Course
Duration: 1 or 2 day course pending size of classes (8 or 16 hours)
Class size: Minimum (10) students, Maximum (18) students
Rate: $250.00 per student
Special Team rates available - please contact us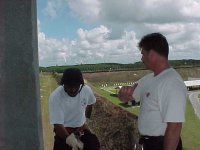 Learning Goal
The student will learn the proper rappelling techniques and safely rappel from a safe rappel tower or comparable building.

** This is a pre-requisite to the advanced courses. **
Student Performance Objectives
The student will be taught and then individually monitored by a certified rappel master. All students must successfully demonstrate the following:
Tie (5) knots (includes: knots, bends & hitches)
Tie Swiss seat (rope/tubular nylon)
Proper hook up with a carabiner & figure 8
Demo proper technique while rappelling (both weapon and non-weapon hand)
Proper tie-off with figure 8
Proper tie-off with carabiner
Inverted rappelling
Proper Window entry
Proper belay (top and bottom)
Self belay, lowering and rappelling
Self rescue
Lots of rappels
Learning aids / Equipment
Your rappelling tower or The Orange County Rappelling Tower located at the Orange County Sheriff's Office Range.
(2) Kernmantle Ropes (furnished)
Rescue Eight Descender
(2) Carabiners
Rappel Harness (Manufactured and/or Swiss seat)
Helmet
Gloves
15' 11mm Rope & 15' 1" tubular nylon
Good Attitude!