Container Climbing (TTP)
Course
2-Day Training Course (pending size of classes)
Class size: Minimum (10) students, Maximum (18) students
Rate: $375.00 per student
Special Team rates available - please contact us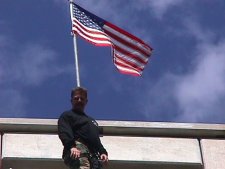 Learning Goal
The student will learn the proper container rigging, climbing, and rappelling techniques. Student will then safely climb/rappel from a container or safe rappel platform.
Course Overview
Introduction / Course Overview to Include Safety Lecture
Nomenclature and Care and Maintenance of Equipment
Knots and Rope Management
Proper Anchor Rigging of Containers
Various Techniques of Tactical Rappelling – (Using USCG issued equipment)
Advanced Techniques:

Tie Offs
Self-Belay Techniques and Equipment
Self Rescue Techniques
Lowering/Belay Systems
Ascending Techniques and Equipment
Learning Aids / Equipment
Rappel gloves
Rescue Eight Descender / GRI-GRI
Rappel harness
Helmet (protective head gear)
(2) Locking / auto-locking carabiners 27kN
15' section of 11 mm rappel rope
The student must also bring all assault gear, holster, vest, helmet, knee & elbow protection etc.